All to often, companies underestimate and underutilize the power of their telephone system.
On average, 20% of a caller's time on the phone is spent on-hold or in queue and it is clear that the last thing a company wants is to waste valuable customer engagement and interaction time with silence or dreaded cliché impersonal "calls recorded" messages.
My team and I believe that in-queue and on-hold audio is about much more than just making a good impression. When used well it can be an incredibly effective marketing tool which can add significant benefits such as improving efficiency, providing greater visibility of your products or services or reducing complaints or enquiries for common questions.
Ensuring Maximum Impact
So how do you use on-hold time more effectively? What will add the greatest benefit to you and your customers?
Firstly, if you are using a voice artist, do they accurately represent your brand? Does the tone and the language match with your other client contact points? For instance, if your website uses modern terminology and conversational language does your on-hold audio match? Being on-brand and having consistency means that when a caller contacts your business they have the brand message and recognition to that of your social media, website or external marketing communication.
Secondly, have a goal and know what you want to achieve. In-queue and on-hold audio provides the perfect opportunity to boost sales, provide information and build your brand! You have a captive audience and although they may be doing something else while they are waiting, they are listening for their call to be picked up. But if you make it more engaging, educational, informative or fun they might listen more intently.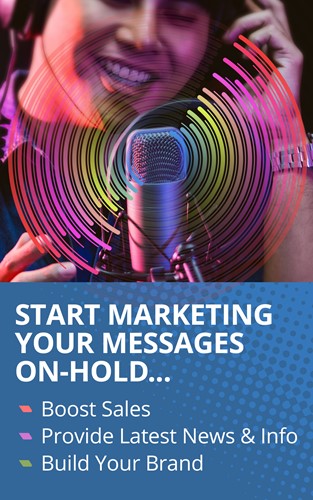 Thirdly, your calls are most keen at the beginning of the call so put your biggest and best offers at the start. But be careful; the way you word your messages plays a huge part in their success. If you are too pushy, you could lose the caller, if there is not enough value or benefit and their interest is lost. Crafting the right script can build up your brand which is why you should consider pre-scripted messages that have been professionally crafted.
Finally, walk a mile in their shoes, listen to your on-hold messages and evaluate the experience from a customer's perspective. Make sure it is relevant, relatable and resonates with those callers. Done right, you will improve customer experience and achieve your goal.
Axis VoicePrompt
If you are looking for help with Interactive Voice Recordings (IVRs) or On-Hold audio messaging then check out this short video to learn how our Axis VoicePrompt service can help you.
We have 10,000+ professionally scripted messages that can be filtered by industry and message type and then implemented instantly. It is all configured by you via a simple to use web portal.
For more information, call 01278 421020